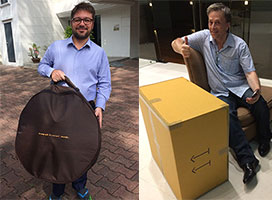 Shipping Worldwide (International shipping).
My handpans, hang drums have been landing to 21 country as USA, Australia, China, Japan, Germany, Hongkok, India, Qatar, Lebanon, Israel, Myanmar, Brazil, Norway, Italy, France, Switzerland, England, New Zealand, Honland, Taiwan and Poland.
Delivery in Bangkok.
Many travelor visit Thailnd and carry my handpan to the flight. We do delivery to your place in Bangkok. Please tell me before you come around 3 weeks, you will get it for sure. Because I always don't have in stock.